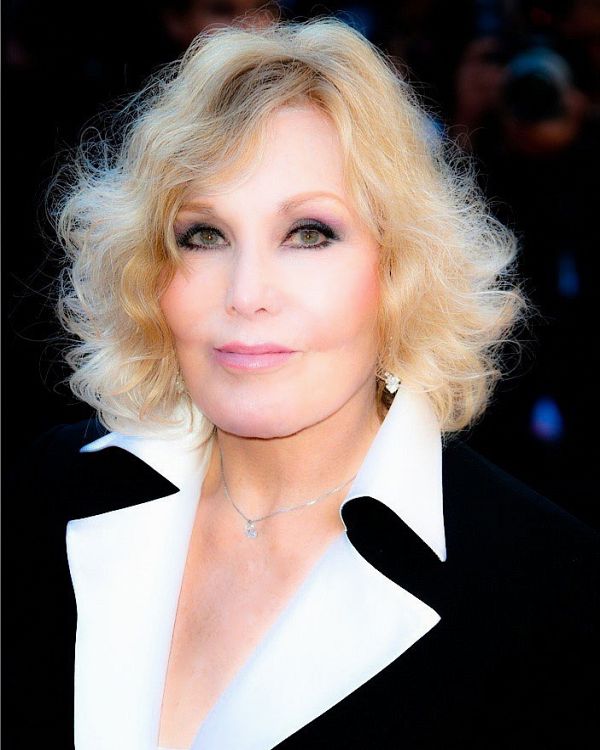 Kim Novak
Kim Novak
Kim Novak, the last of the great glamorous movie stars of the golden era, who was the No. 1 box office star in the world in '58, '59' and '60, lives on today as a happy legend, poet, and artist. Despite her glamourous looks, few people realize that Novak was the first woman to start her own production company in 1958. She knew that's where the control was, and she wasn't interested in being a "puppet" for Columbia's Harry Cohn. Cohn said he "manufactured Novak in order to make Rita Hayworth nervous. NO STAR CAN BE MANUFACTURED EVER. YOU HAVE TO BE BORN WITH THE MAGIC, AND LAST AS A LEGEND. Novak's face is extraordinary and the camera loves her. You cannot fake that.
Her brilliant performance in Alfred Hitchcock's "Vertigo," with James Stewart, has become unforgettable and continues to excite and haunt audiences today and earn acting prize after prize. "Vertigo" has been named the Best Film Ever Made by the British Film Industry, over "Citizen Kane," and other respected polls, and was the very first motion picture to be named as part of the Library of Congress. In a recent online poll, movies.com rated Novak's performance in "Vertigo" the No. 1 performance by any actor in a Hitchcock film.
Her movies are now considered true classics: "Picnic," "The Man with the Golden Arm," "Pal Joey," "Vertigo," "Bell, Book and Candle" "Strangers When We Meet," "Mirror Cracked," "Moll Flanders," "Kiss Me Stupid," Of Human Bondage," "Notorious Landlady," and "Just a Gigolo."
Her poignant and "true life" performances were never stylized for the period in which they were made. Therefore, her work as an actress was not always appreciated by the critics of that time. Yet, she remained real and relevant by surviving the test of time with audiences around the world. In recent years, the critics have changed their minds and voraciously rewritten their opinions on her performances. She became a living legend, earning her rightful place in history, with the respect and esteem of the film critics and industry alike.
During her time in Carmel, Novak bought "Gull House' her getaway from Hollywood. She would escape the rat race every weekend and paint, dance, and make music. "Gull House" saved her life. In 1966, after a landslide at her Bel Air house, she left Hollywood for good, taking the landslide as a sign. She has never moved back.
Novak became a poet and a visual artist whose works continue to inspire women trying to be independent. As a teen she received a full scholarship to the Chicago Institute of Art. She was planning on going there, when a summer modeling tour was interrupted by an accidental trip to Hollywood that she made simply to accompany another model for a meeting. Of course, it was Novak who was discovered, and her life changed forever. Novak is always one to follow signs, and even if she doesn't understand their original meaning, she gives everything her all.
After many years of living alone IN CARMEL, she married Dr. Robert Malloy,, who was an equine veterinarian. They created a special paradise they named "Wingsong" on the Rogue River in Southern Oregon. Respecting and caring for Mother Nature, they explored the wilderness on horseback, along with their dogs and other special critters.
Novak's art was displayed and honored in a retrospective of her life's work as a visual artist by the prestigious Butler Museum of American Art in Youngstown, Ohio, where some of her pieces are on permanent display. Her art also has been exhibited at the San Francisco Historical Society and the National Museum of Prague. The Butler Museum published a book of her life and art in 2020. Novak symbolically paints her feelings by expressing her reactions through her art to a troubled childhood that created ongoing mental illness issues that she had to handle all her life.
After her husband's passing from cancer in 2020, she has dedicated her life to more painting and writing of poetry. She also continued to live out her dream of riding her favorite horse, Poet, and creating a home with her three rescue dogs.
Kim Novak has been honored by the Toronto Film Festival in 2015, the Prague Film Festival in 2014 and the Cannes Film Festival in 2013. Novak was also honored with the prestigious Golden Bear Award for her lifetime achievement at the Berlin International Film Festival. In 2003, she was presented with the Eastman Kodak Archives Award for her contribution to film (prior honorees include Greta Garbo, Audrey Hepburn, James Stewart, Martin Scorsese and Meryl Streep). Novak has graced the covers of LIFE, LOOK, and TIME magazines twice along with appearing in every major publication from 1955 to the present.