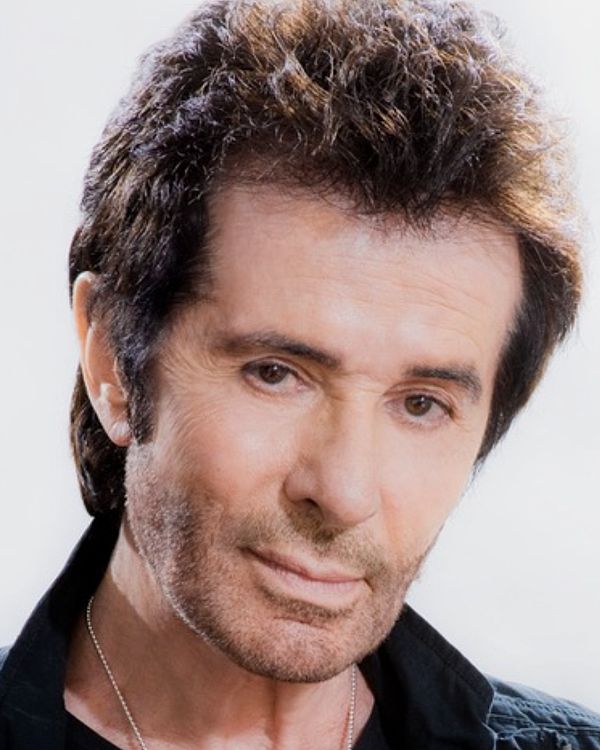 George Chakiris
George Chakiris
When the film of West Side Story opened in 1961. Young George Chakiris' smoldering performance as "Bernardo" was hailed typically as "an overnight sensation." The truth is, of course, that young George had been working in films since 1947. He appeared in small roles or as a dancer. His early debut was singing in the chorus of MGM's Song Of Love. He was seen in Paramount's White Christmas with Rosemary Clooney, and in the Funeral Dance in MGM's Brigadoon and is very prominent as one of the wealthy suitors to Marilyn Monroe in the iconic "Diamonds Are A Girl's Best Friend" number in Fox's Gentlemen Prefer Blondes. He also danced in There's No Business Like Show Business(1954) The Girl Rush (1955) and Meet Me In Las Vegas (1956).
George was born in Norwood, Ohio to Greek immigrant parents Steven and Zoe (nee Anastasiadou) Chakiris. As a teenager he worked as an office boy at the downtown May Company to support his singing, dancing, and acting aspirtations. George credits Hollywood's American School of Dance under the direction of Eugene Loring for the bulk of his dance training.
Prior to filming West Side Story George co-starred as "Riff" in the first London production of the hit Broadway musical. This starred Don McKay, Marlys Watters, and the Broadway "Anita" Chita Rivera. A number of the London company dancers also ended up being in the film (Tony Mordente, Eddie Verso, David Bean) The powers that be decided George's dark and handsome persona would be better suited to" Bernardo". The fact that he possessed strong singing and acting chops as well as being a brilliant dancer cinched the decision. Fast forward to the film's opening and America has a new heartthrob.,Chakiris is the idol of all the screaming young teenage girls. When the Academy Awards were handed out for 1961 West Side Story won Best Picture, Direction, Screenplay, Cinematographer, Art Direction, Costume Design, Sound, Film Editing, Music Scoring, and an Honorary Award for Jerome Robbins for Choreography. The acting honors that year went to Best Supporting Actress Rita Moreno and our guy George Chakiris took home the Best Supporting Actor statuette.
The industry attention from winning the Academy Award was amazing and George was signed to a contract with the Mirisch Company and in short succession he made a number of films. 633 Squadron (with Cliff Robertson) Diamond Head (with Charlton Heston and Yvette Mimieux) Flight from Ashiya and Kings Of The Sun (both with Yul Brynner) The Big Cube (with Lana Turner). In 1967 he returned to musicals by appearing in the Jacques Demy film Les Demoiselles de Rochefort. This beautifully photographed film was shot entirely on location in France and he co-starred with Gene Kelly, Catherine Deneuve, and Francoise Dorleac. In this period he launched an impressive nightclub act which played Caesar's Palace in Las Vegas and Harrah's in Lake Tahoe and toured Japan. He also recorded several popular LPs which included "Memories Are Made Of These", "The Gershwin Song Book" and a debut album simply titled "George Chakiris." He played the lead role of "Bobby" in the National tour of the Stephen Sondheim/Harold Prince/Michael Bennett musical Company . This watershed musical opened at the Ahmanson in Los Angeles on May 20, 1971. In 1995 he returned to England to play "Rochester" in the stage adaptation of Jane Eyre and among his US regional appearances is the title role in The King and I .
George has guest starred in a number of television series like Hawaii Five-O, Wonder Woman, ChiPS, Scarecrow and Mrs. King, Murder She Wrote, and had a recurring role on Dallas in the 1985-86 seasons. George shared a kiss with Shirley Jones as her love interest in the final episode of The Partridge Family. He appeared as Professor Peterson in Superboy and was seen in the British sitcom Last Of The Summer Wine.
His performances have often been heralded as "quicksilver" and "sterling" so is it any wonder that he turned his onetime hobby of making sterling silver jewelry into yet another profession? His own brand of high end original sterling silver jewelry is called George Chakiris Collections and is available at georgechakiris.com. George often attends our PDS events either as an audience member or as a presenter and PDS is aware that today's honor is long overdue. 2018 seemed the perfect time to bestow this honor upon him and add his name to the list of amazing dancers we have honored in the past. Many young performers say that seeing West Side Story was the inspiration for their starting to dance. Today we honor a major source of that inspiration