Please review the FAQs for details on the event and how to purchase your cabin.
Click on the categories to view the cabin. Click on the deck to view a sample deck map.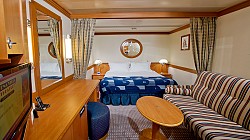 Deluxe Inside
Queen-size bed, single convertible sofa, pull-down upper berth (in some), privacy divider, split bath.
Sleeps 4 • 214 sq. ft.
Prices PER PERSON*

Add $300 per person for taxes, fees and gratuities
Category
Deck - Description
Double (2)
Triple (3)
Quad (4)
Quint (5)
11C
Deck 2 - Standard Inside

$1,095

$796

N/A

N/A

11B
Deck 5, 6 - Standard Inside

$1,095

$796

$647

N/A

11A
Deck 6, 7 - Standard Inside

$1,150

$833

$675

N/A

10C
Deck 1, 2 - Deluxe Inside

$1,205

$870

$702

N/A

10B
Deck 2 - Deluxe Inside

$1,205

$870

$702

N/A

10A
Deck 5, 7 - Deluxe Inside

$1,260

$906

$730

N/A

09D
Deck 1 - Deluxe Oceanview

$1,410

$1,006

$805

N/A

09C
Deck 2 - Deluxe Oceanview

$1,430

$1,020

$815

N/A

09B
Deck 2 - Deluxe Oceanview

$1,460

$1,040

$828

N/A

09A
Deck 5, 6, 7 - Deluxe Oceanview

$1,550

$1,100

$875

N/A

07A
Deck 5, 6, 7 - Deluxe w/Navigator's Verandah

$1,610

$1,140

N/A

N/A

06A
Deck 5, 6, 7 - Deluxe w/Verandah

$1,645

$1,163

N/A

N/A

05C
Deck 5, 6 - Deluxe w/Verandah

$1,700

$1,200

$950

N/A

05B
Deck 6, 7 - Deluxe w/Verandah

$1,920

$1,346

$1,060

N/A

05A
Deck 7 - Deluxe w/Verandah

$1,920

$1,346

$1,060

N/A

04E
Deck 8 - Deluxe Family w/Verandah

$2,045

$1,430

$1,122

$937

04B
Deck 8 - Deluxe Family w/Verandah

$2,095

$1,463

$1,147

$957

04A
Deck 8 - Deluxe Family w/Verandah

$2,145

$1,496

$1,172

$977

00T
Deck 8 - Concierge One Bedroom Suite with Verandah

$3,399

$2,332

$1,799

$1,479

00S
Deck 8 - Concierge Two Bedroom Suite with Verandah

$3,625

$2,483

$1,912

$1,569
* All prices based on a minimum of double occupancy
Staterooms