Please review the FAQs for details on the event and how to purchase your stateroom.
Click on the categories to view the stateroom. Click on the deck to view a sample deck map.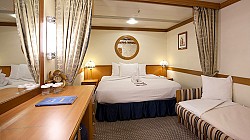 Standard Inside
This accommodation—befitted in stylish maritime décor—boasts room for a family of 3 or 4 and includes a queen-size bed, separate sleeping and seating areas, as well as a couch and desk.
Sleeps 3-4 • 184 sq. ft.
Prices PER PERSON*

Add $300 per person for taxes, fees and gratuities
Category
Deck - Description
Double (2)
Triple (3)
Quad (4)
Quint (5)
11C
Deck 2 - Standard Inside

$1,100

$800

N/A

N/A

11B
Deck 5, 6 - Standard Inside

$1,125

$816

$662

N/A

11A
Deck 6, 7 - Standard Inside

$1,180

$853

$690

N/A

10C
Deck 1, 2 - Deluxe Inside

$1,230

$886

$715

N/A

10B
Deck 2 - Deluxe Inside

$1,240

$893

$720

N/A

10A
Deck 5, 7 - Deluxe Inside

$1,295

$930

$747

N/A

09D
Deck 1 - Deluxe Oceanview

$1,445

$1,030

$822

N/A

09C
Deck 2 - Deluxe Oceanview

$1,470

$1,046

$835

N/A

09B
Deck 2 - Deluxe Oceanview

$1,500

$1,066

$850

N/A

09A
Deck 5, 6, 7 - Deluxe Oceanview

$1,590

$1,126

$895

N/A

07A
Deck 5, 6, 7 - Deluxe w/Navigator's Verandah

$1,650

$1,166

N/A

N/A

06A
Deck 5, 6, 7 - Deluxe w/Verandah

$1,685

$1,190

$942

N/A

05C
Deck 5, 6 - Deluxe w/Verandah

$1,745

$1,230

$972

N/A

05A
Deck 7 - Deluxe w/Verandah

$1,970

$1,380

$1,085

N/A

05B
Deck 6, 7 - Deluxe w/Verandah

$1,970

$1,380

$1,085

N/A

04E
Deck 8 - Deluxe Family w/Verandah

$2,100

$1,466

$1,150

$959

04B
Deck 8 - Deluxe Family w/Verandah

$2,150

$1,500

$1,175

$979

04A
Deck 8 - Deluxe Family w/Verandah

$2,200

$1,533

$1,200

$999

OOT
Deck 8 - Concierge One Bedroom Suite with Verandah

$3,485

$2,390

$1,842

$1,513
* All prices based on a minimum of double occupancy
Staterooms