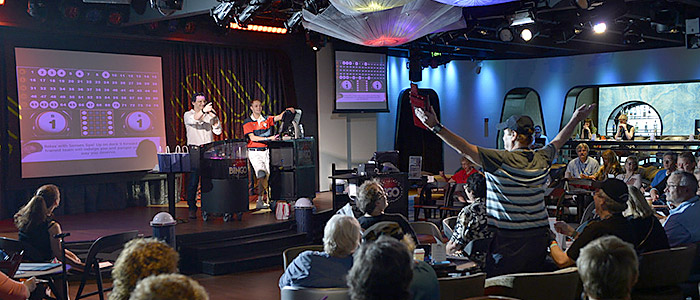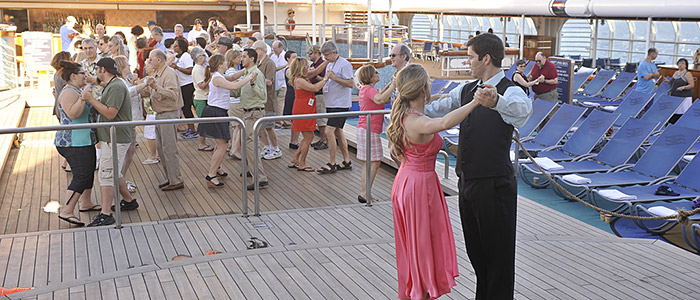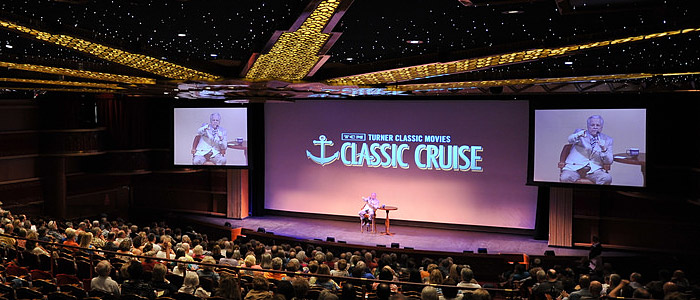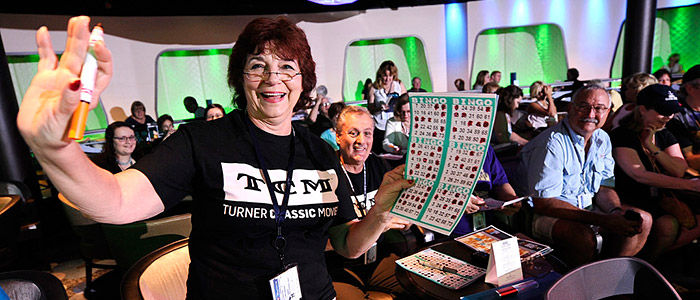 Among the great highlights of this travel experience will be numerous opportunities to see your favorite TCM hosts and classic film stars in a new light!
ALOHA WANDERWELL BAKER: SILENT FILM ADVENTURESS
Randy Haberkamp presents the fascinating true story of a female "Indiana Jones" who directed, edited and was featured in ethnographic footage worldwide. With rare footage and photographs, you'll learn more about this unique filmmaker and her adventures, including disguising herself as a man in order to pray in Mecca, becoming a confidante of Chinese bandits and more.
ANYONE CAN COOK
Let a Disney Cruise Line chef teach you a few culinary basics as they show you how to prepare a Cruise guest favorite dish at home.
ASK ROBERT
TCM host Robert Osborne shares lore from decades in Hollywood as well as insights from his time at TCM, and answers your questions.
BINGO
Join us for bingo. You'll have a chance to win fabulous prizes from TCM, including cash jackpots!
BINGO WITH BEN
Don't miss this chance to play bingo with TCM Host Ben Mankiewicz.
CHAMPAGNE TASTING
Join us on a journey through the subtleties and joys of bubbly. (21+)
CHOCOLATE TASTING
Impress your palate with this array of chocolates, from the delectably dark to the impossibly smooth and sweet. (21+)
A CONVERSATION WITH ANGIE DICKINSON
Angie Dickinson discusses her life and remarkable career in film and television, including her work in such classic films as Rio Bravo (1959) and Point Blank (1967) as well as her Golden Globe-winning performance in Police Woman (1974-1978).
A CONVERSATION WITH EVA MARIE SAINT
Eva Marie Saint reflects on her life and distinguished career in film, television and theater, including her role in North by Northwest (1959) and her Academy Award-winning performance in On the Waterfront (1954).
A CONVERSATION WITH LOU GOSSETT, JR.
Lou Gossett, Jr. reflects on his life and illustrious career, from his work on Broadway to his Oscar-winning role in An Officer and a Gentleman (1982) and his recent philanthropic work with Louis Gossett, Jr.'s Eracism Foundation.
A CONVERSATION WITH ROGER CORMAN
Academy Award-winning producer/director Roger Corman recounts tales from his six-decade long career in Hollywood from his debut film The Monster from the Ocean Floor (1954) to his iconic monster movies and more recent hits.
A CONVERSATION WITH RUTA LEE
From her work in such popular films as Seven Brides for Seven Brothers (1954), Witness for the Prosecution (1957) and Sergeants 3 (1962), to her extensive work in television and theater, Ruta Lee reflects on her legendary life and career.
DANCE LESSONS: MGM MUSICALS
Get ready to make your starring debut at the evening's festivities with this instructional tribute to the great MGM musicals.
DANCE LESSONS: SHUFFLE OFF TO BUFFALO
Join us for this fun and energetic class that will teach you to soft shoe just like a 1930s musical star—top hat and tails not required.
DANCE LESSONS: WARTIME EAST COAST SWING
Get ready to step back in time to the era of war bonds and the USO as we teach you the steps to popular 1940s East Coast swing.
A DAUGHTER REMEMBERS FRED MACMURRAY
He was one of Hollywood's great actors whose career spanned the apex of black-and-white cinema to the Golden Age of color television. Join Kate MacMurray as she shares her warm recollections of her father, the beloved Fred MacMurray, with an array of rare archival footage.
I BLAME DENNIS HOPPER
Illeana Douglas discusses her new book, I Blame Dennis Hopper with Ben Mankiewicz and reveals how movies have made her life: from hilarious and fateful meetings with the many screen legends she's known and worked with to her special relationship with her grandfather, Academy Award-winner Melvyn Douglas. She'll also explain why she blames Dennis Hopper for everything that has ever happened to her.
KARAOKE
Everyone has "their song." TCM will provide a huge catalogue of classic tunes so you can show off your singing skills and entertain your fellow passengers all night!
MARTINI TASTING
Toast to the good life in classic Hollywood fashion—with a martini. Here's your chance to find your perfect version of this timeless drink. (21+)
MATCH YOUR MATE
It's time to play everyone's favorite couples game show—Match Your Mate! Find out how well these pairs know each other in this twist on The Newlywed Game.
MEET BEN
TCM host Ben Mankiewicz shares stories from his life and his time at TCM, and answers your questions.
MEET TCM
Come and learn more about your favorite network as TCM staffers answer your questions!
MIXOLOGY
When it comes to cocktails, "Anything Goes." Enjoy sampling a variety of classic drinks that evoke the flavor of Hollywood's classic musicals. (21+)
MY FIRST TIME IN HOLLYWOOD
Legends of the film business—actors, directors, and screenwriters—recount their first trip to Los Angeles, California. Hear special guests aboard the TCM Classic Cruise give dramatic readings of these first person accounts, culled from award-winning author Cari Beauchamp's book, My First Time in Hollywood: Stories from the Pioneers, Dreamers and Misfits Who Made the Movies.
PICTURE SHOW
Test your classic movie musical knowledge with this fun twist on pictionary.
SINGLES MIXER
Traveling solo? Join others like yourself at this special meet and greet.
SO YOU THINK YOU KNOW MOVIES
4:30pm-5:30pm D LOUNGE
Bruce Goldstein returns as host of this popular program, challenging you with new trivia to test your movie knowledge.
TRIVIA WITH TREBEK
Put your knowledge to the test in this trivia game curated and hosted by Alex Trebek.
VAUDEVILLE 101
Live vaudeville was once the leading form of American entertainment—until talkies killed it. But it was a training ground for movie icons like Buster Keaton, Fred Astaire, the Marx Brothers, Judy Garland and even Cary Grant. Film Forum's Bruce Goldstein will recreate vaudeville's golden age with the greatest—and worst—acts of a bygone era.
WHISKEY TASTING
Sample a fine selection of whiskeys from around the world. (21+)
WINE TASTING
Like a fine Bordeaux, classic movies just seem to get better with age. We'll uncork the fun of movies and wine. Sample a number of wine varietals and discover their perfect movie pairings. (21+)